Meet our SPECIALIST PAEDIATRIC DENTISTS
Dr Michael Chong

Favourite Superhero: Superman

Hobbies: Camping, fishing and cycling

Founder of The Paediatric Dental Practice, Dr Michael Chong is widely recognised amongst his peers for his knowledge, expertise, surgical skill and passion.

Michael grew up in Brisbane and earned his Bachelor of Dental Science degree from the University of Queensland in 1997. Following graduation, he developed an interest in paediatrics while working with children in the School Dental and Royal Flying Doctor Services in far north and regional Queensland. He went on to complete his Master of Dental Science in Paediatric Dentistry in 2002.

Michael built his practice on the premise of providing children with expert care in a positive, safe and comfortable environment. He is committed to fostering long lasting relationships with his patients and their parents built on trust and respect and gains a great deal of satisfaction from watching his young patients develop their confidence in the dental chair.

Michael and his wife Peta have three beautiful young children; Olivia, James and Cara. In his spare time he enjoys camping, fishing, four wheel driving and cycling.

Special Interests:

- Dental traumatology
- Syndrome related developmental dental defects
- Treatment of special care and medically compromised patients
- Chalky teeth problems

Dr Steve Kazoullis

Favourite Superhero: Ironman

Hobbies: Music and travel, family and friends

A registered specialist in Paediatric Dentistry, Dr Steve Kazoullis has over 25 years of experience in the field and remains active in dental research, his work published internationally.

After graduating his Bachelor of Dentistry with honours and subsequent specialist training, Steve is currently the Discipline Lead for Paediatric Dentistry at the University of Queensland and holds an active position as a specialist at Lady Cilento Children's Hospital. He also visits other hospitals including Pindara, Allamanda and Emerald Hospital.

Steve also loves to sing! He performs with a choir and enjoys Byzantine chant. He can also rip out a tune on his acoustic and bass guitars or his piano accordion. Next on the list is to master the harp. Steve and his wife Andrea also love to get involved in community groups and help out as much as they can.

Special Interests:

- Oral surgery
- Managing medically compromised and special care children
- Dental trauma in children
- Chalky teeth problems

Dr Tony Cakar

Favourite Superhero: Batman

Hobbies: Music and great food, Family time

Dr Tony is a registered Specialist Paediatric Dentist.

After expanding his skills for 10 years in general dentistry, Tony specialised in children's dentistry by completing the three year full time Doctorate at the University of Queensland. He enjoys seeing children of all ages and has a special interest in paediatric oral surgery as well as treating medically compromised children and those with chalky teeth.

Tony enjoys teaching and is a visiting lecturer at the Griffith University and the University of Queensland.

Tony loves spending time with his wife and two young children and their newfound relaxed coast lifestyle. He also enjoys food, wine, music and is always dreaming of his next travel adventure!
Meet our Oral Health Therapists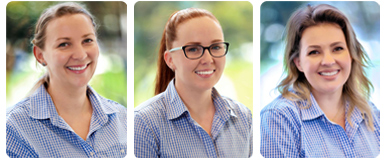 Our wonderful team at The Paediatric Dental Practice would not be complete without our extremely talented and highly experienced Oral Health Therapists, Dana, Kate and Sophie.
Our Therapists perform a wide range of oral health care services including examining, treating and preventing dental problems. They care for children and their dental needs with their primary focus being on of preventing disease and promoting preventive oral health care through education.
Our Oral Health Therapists are university qualified and have specific training in treating children from infancy through childhood and beyond. They also have the additional experience of working only with children and adolescents each day in our practice.
Through their care and expertise we aim to give your child the very best foundation for a lifetime of outstanding dental health.
Give us a call - we'd love to hear from you
If you have any enquiries or would like to book an appointment for your child, please call us on (07) 5597 2000 or book online.