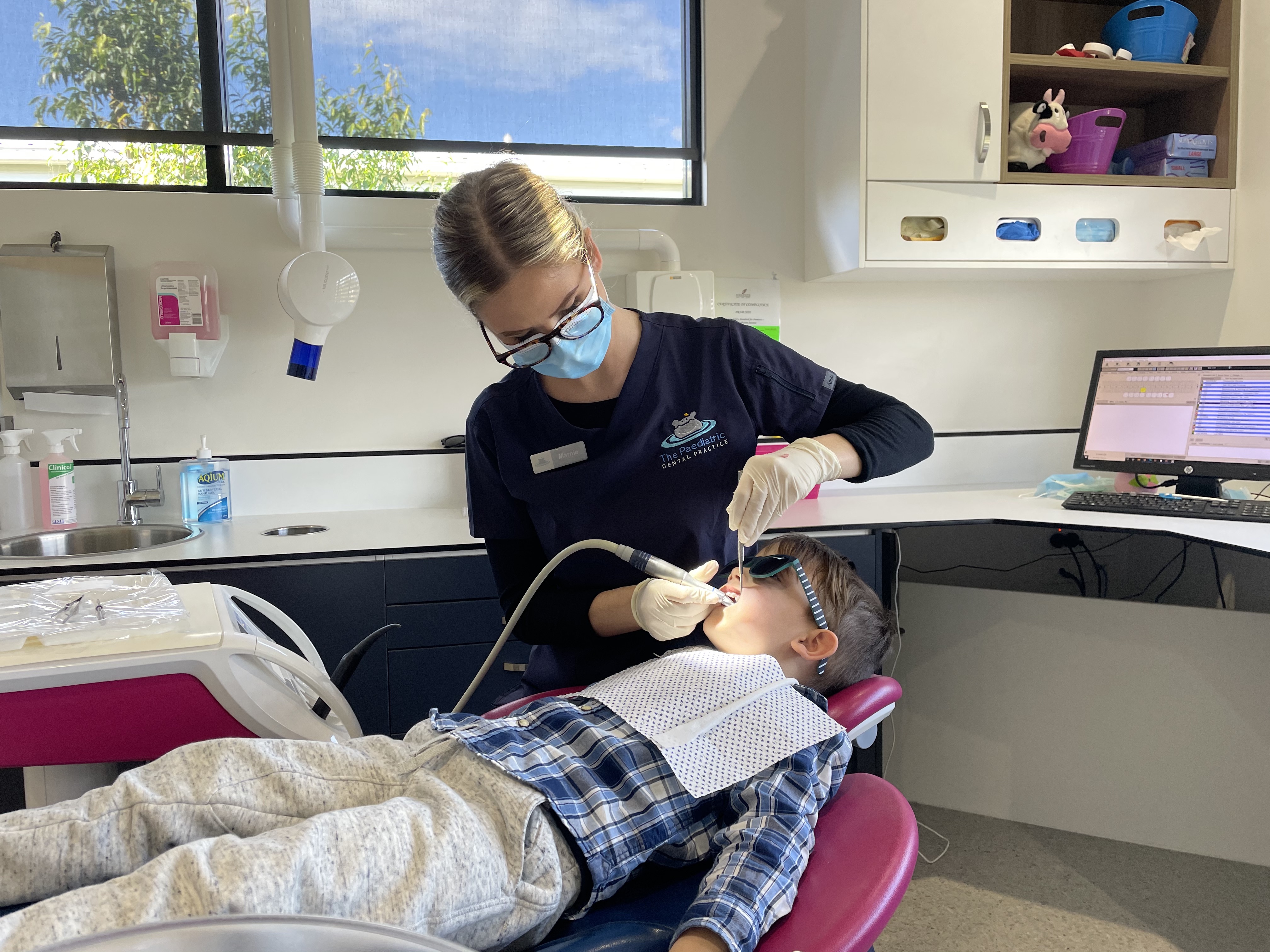 "I think my son, who's six, has child dental phobia – he freaks out in the dental chair. I've avoided taking him to the dentist lately, but he needs his teeth looked at. How can you help?"
Sue from Carrara, Gold Coast QLD
Paediatric dentists: we are experienced at managing child dental phobia
Going to the dentist can be stressful for children. There can be tears – and not just from the kids!
At The Paediatric Dental Practice, our specialist paediatric dentists, oral health therapists and practice staff deal with children all day, at every appointment, so we're highly experienced with child interaction and psychology.
We have a good understanding of how our little patients feel, including common reactions, habits and fears – although we also know that each child is an individual.
This is why your child's dental visit is very much tailored to their age, experience with the dentist and reactions, not just at the beginning but throughout each appointment.
Causes of child anxiety at dentist
Fear of pain or the anticipation of pain
A lack of trust or fear of betrayal
Fear of loss of control
Fear of the unknown
Fear of intrusion (from unknown people or even our dental instruments)
We are specially trained to deal with young patients
Paediatric dentists are specially trained to work with children and how to handle the different situations that may arise when treating them.
Unlike adult dentistry, we are trained to take into consideration behavioural aspects as well as the physical differences of treating a child.
We have been taught the techniques to ease them, indicators to know when to stop or go slow, and even how to handle difficult situations.
It is about taking small steps and, of course, it helps that their parents can be in the dental room with them.
Signs your child may be anxious
Change in behaviour – irritability, restlessness, tension, crying
Increase in heart rate
Avoidance
Obsessive tendencies
Shaking or trembling
In paediatric dentistry, body language is important. What differentiates us from most general dental practices is that we are trained in child interaction and psychology – we know the earliest body signals as to when a child is starting to get stressed.
We can tell if a child is uncomfortable if they are curling their toes, making a fist, their pupils are constricting or they are furrowing their brow.
If they look stressed, we take it easy, stop and give them a rest.
Do regular appointments help children overcome child dental phobia?
Yes, we recommend that children have regular check-ups because, apart from catching problems early, it allows us to build a relationship based on trust with them.
When a child first sees the dentist at a young age, they are often very apprehensive.
By the time they reach their teenage years, they are more confident because they have been seeing us for so long.
How do you keep kids calm in the dental chair?
Honesty
This is a big thing in paediatric dentistry. We will be honest with a child and tell them exactly what to expect during an appointment.
For example, if a dentist tells a child, "This will only take five seconds" and it takes 10 minutes, they remember and don't trust what is said.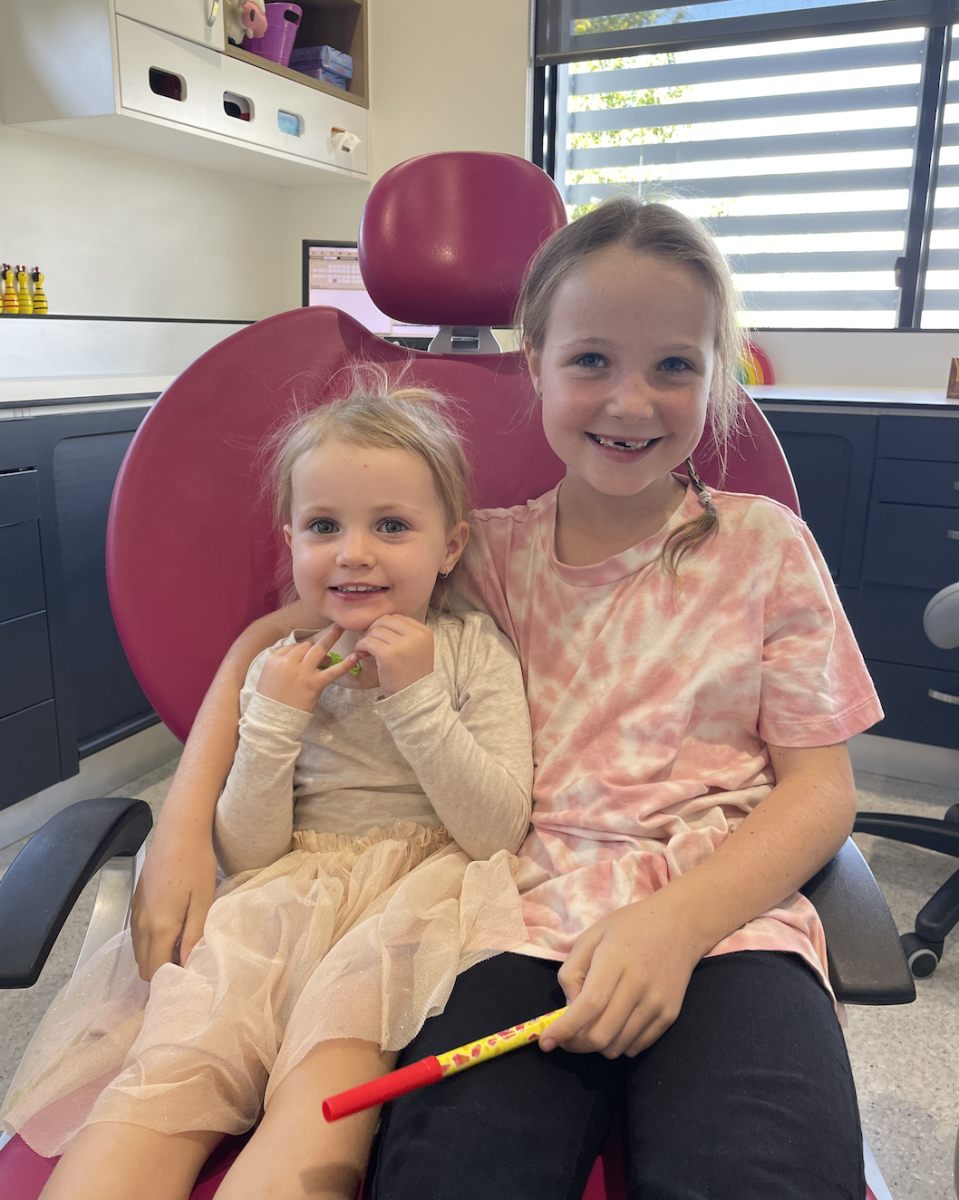 Control
We let them know they have control of the situation. If they don't like what we are doing, we give them the opportunity to stop until they feel comfortable again.
Role modelling
If they are very apprehensive, we will do some role modelling on ourselves, a parent or an older sibling.
Sometimes we will use a doll, where the child can play with it and do a 'check-up'.
Tell-show-do
This is where we tell the child what we are going to do, show them, then do it.
We will show the child around the room and the way things happen, the buttons we are going to press and let them hold the instruments we are going to use. We take it slowly until we know they are comfortable.
Frequent rests
We let the child tell us when they need a break. By putting a hand up, we can stop and give them a rest.
Often, it is the tastes or textures they experience during a dental clean that can be an issue, so we pause and rinse as much as they need to. This also helps the child feel a sense of control.
Desensitise
We try to minimise the number of sensory inputs, so they don't feel overloaded or overwhelmed.
With routine recall appointments, each visit becomes more predictable and children become more comfortable. Over time, they then allow more to be completed as they become more confident.
How do you handle it if a child starts to panic?
Firstly, we would stop, remove any instruments and encourage the patient to get comfortable again.
Once the child has settled, we would ask what it was that caused the child to panic and make arrangements to make them feel comfortable again.
What happens if parents put off dental visits due to fear?
Unfortunately, putting off dental appointments can begin a cycle that just increases fear of the dentist.
If a child has not had a recent check-up and problems have arisen, they are more likely to experience tooth pain at home, need lengthier treatment and, therefore, compound and grow their fear of the dentist.
Preventive examination and cleans are far less 'fear-inducing' than treatment like fillings or extractions.
If my child is scared of dentist, what can I do?
See our article Your child's first dental visit with our tips on 'How to prepare for their visit'.
Explain to your child what will happen at the dentist – keep it simple, positive and honest.
Book a morning appointment (if you can), after your child has had a good night's sleep, or choose a time after your little one has had a nap.
Make sure they have eaten and aren't hungry. As many parents know, hungry children can often be grumpy too.
Stay calm and let our dental team comfort and guide your child. We are experts at dealing with the wriggles!
Find a dentist that you and your child are comfortable with
Our practice at Benowa on the Gold Coast is designed to make your child feel happy and relaxed, from our fun kids entertainment room (with TV, toys and books) to our colourful and cheerful dental rooms.
Is your child scared of dentist? Please let us know if your child is anxious, fearful or has special needs when you call. You can book on (07) 5597 2000 or online. No referral needed.